Mayor de Blasio, Commissioner Bratton and Manhattan DA Vance Announce Major Initiative to Enhance NYPD Mobile Communications

Police Commissioner William J. Bratton joined Mayor Bill de Blasio and Manhattan District Attorney Cyrus R. Vance, Jr., today in announcing a major initiative that will in many ways transform the way NYPD officers perform their duties. Read more [Here]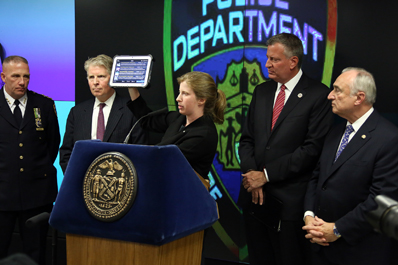 NYPD Air Sea Rescue Saves Man Stranded Off Staten Island

Members of the NYPD's Air Sea Rescue 22 saved a missing jet skier Sunday who was stranded near the West Bank Lighthouse off Staten Island. After a call for help came over an emergency marine frequency stating that two men were missing, the FDNY Marine Unit was able rescue one man and advise the NYPD that the other jet skier was possibly in the area. As the Air Sea Rescue helicopter canvassed the location, Sergeant O'Hara, the rescue team's pilot, observed a man waving for help from a small island below. The team lowered Detective Daly to the ground where he secured the 47-year-old man to a rescue basket that was then hoisted into the helicopter. The man, uninjured, was removed to Staten Island University Hospital where he was treated and released.